The 10 commandments of Growth Hacking | Smart Insights
How to use Growth Hacking to get real results
The growth hacking approach (also referred to as 'agile marketing' and 'growth marketing') has generated a lot of excitement as a dynamic approach to boost awareness, lead generation and conversion.
Sean Ellis, a marketer and entrepreneur who has worked for companies such as Dropbox and Eventbrite, devised the term 'Growth Hacking' in 2010. Originating from Silicon Valley, growth hacking has successfully been used to build high-growth companies such as Hotmail, PayPal, Twitter, Airbnb, Instagram and Uber. Ellis says:
"Startups live and die by their ability to drive customer acquisition growth…[they] are under extreme resource constraints and need to figure out how to break through the noise to let their target customers know they have a superior solution for a critical problem…the best growth hacks take advantage of the unique opportunities available in a connected world where digital experiences can spread rapidly."
Growth hacking is now gaining traction in the UK and has recently been termed 'the next big thing for marketing' by Advertising Age. Even well-established organisations such as The Guardian have recently advertised related job roles, such as 'Head of Growth Hacking', which has further raised its profile.
Although the term 'hacking' has technology connotations, more traditional companies such as Regus and Penguin Books are also using the principles of growth hacking. This indicates that the concept is not just relevant to technology start-ups and this movement has wider implications. Think of it as 'marketing digital disruption' because technology is an enabler for marketers to understand and respond to user behaviour more rapidly.
Core Principles of Growth Hacking
The core principle behind growth hacking is to quickly and cheaply test a marketing idea, use data to analyse the outcomes, and to iterate, optimise, implement or change the experiment. Running A/B tests and checking data with analytical software such as Google Analytics, Mixpanel and Optimizely are essential components to this process.
Despite the high data analysis element of growth hacking, it is an extremely creative process that requires people to "swim against the flow" and spot emerging opportunities before anyone else does. This dichotomy of 'intuition and rigor' and 'art and science' makes it very difficult to find people with the right skill-set; which is why building a growth hacking team is so important (or finding an agency with this type of team already in place).
Although digital marketing is a key element of growth hacking (because of the analytical part of obtaining quantitative user data and gaining insights from it), it is also important to use traditional marketing methods to bridge the gap between the physical and digital world. 
Creating a Growth Hacking Mindset
Growth hacking is an approach, rather than a set of tools.
To illustrate this, we are going to tell you about a brilliant growth hack that has nothing to do with either marketing or business. Instead, it tells the story of a winning mind-set…
In 1996 Britain's cycling team was ranked 17th in the world and had won just 2 bronze medals at the Atlanta Olympic Games. By 2012 they ranked first in the World and British riders had won 12 medals (8 gold) at the London Olympic Games.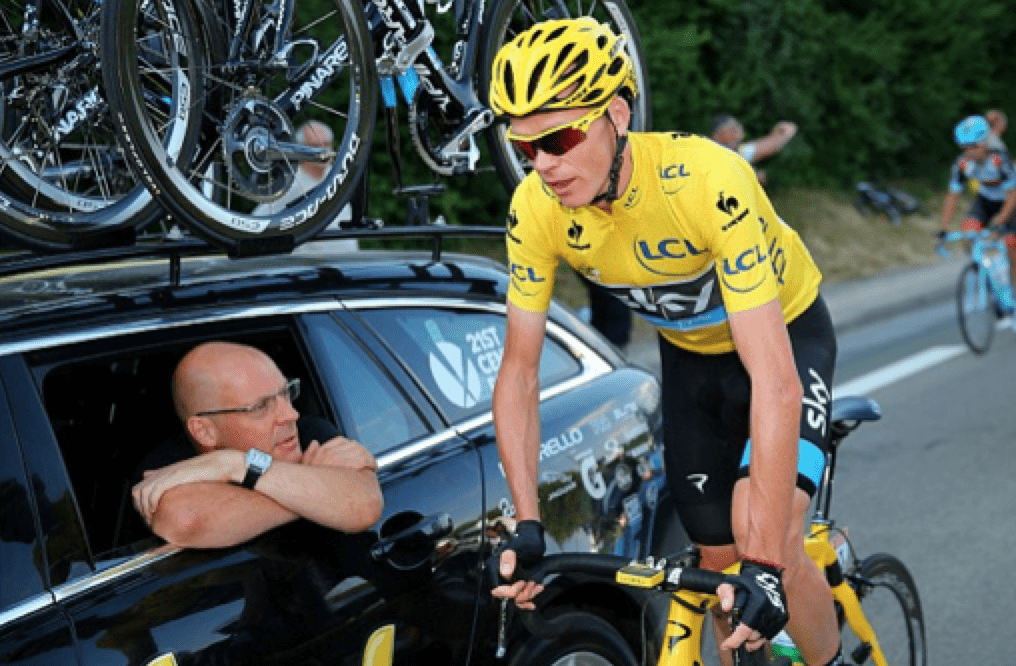 Its success was largely down to the coaching of Sir David Brailsford. His approach was to breakdown everything that went into riding a bike and improve it by 1%. Putting all of the 1% margins together meant that in 2012 British Team Sky had won 70% of the gold medals in cycling at the Olympics.
There wasn't a magic silver bullet but a series of micro, cost effective and human-centred optimisations that could be effectively scaled. This demonstrates what a growth hacking mind set looks like.
To be a good growth hacker:
Mindset is extremely important – growth hackers focus on accelerated growth on a minimum budget. It's all about users (or an alternative KPI, depending on your business)
Being curious and creative are key elements. Don't get fixated on spending a particular budget, go back to basics and think about tapping into human behaviour (we're social animals)
The internal culture is important: the business needs to be open to experimentation – some ideas will fail
It needs a good (Pi-shaped) team, i.e. marketers with a broad base of knowledge in all areas, but capabilities in both 'left brain' and 'right brain' disciplines. They are both analytical and data-driven, yet understand brands, storytelling and experiential marketing
The team element is very important as one individual person is unlikely to have all of the skills needed for growth-focused marketing.
The 10 Commandments
1. Talk to your customers, identify trends, understand why they need your product or service
Magic bullets rarely exist; if you spend too long looking for them you'll take your eye off the ball. Focus on the things that matter – serve amazing customer experiences (like Zappos) and product value (like Instagram and Skype)
 2. Understand the landscape you are operating in
Some products or services are never going to achieve viral growth because of what they are and the market the company operates in
Try to predict the future needs of your customer – be one step ahead of them. Never fall behind or your competition will get there first. Think about how Instagram offered a more superior photo sharing app than Facebook.
3. Develop the unique rules of growth for your particular organisation
What are your company's growth metrics or KPIs?
What's the one metric you need to move, to get to the next stage?
Be growth focused and use data to make sure you are on track
Be technical and have a strong market focus
4. Make extensive use of pilots and prototypes
Build fast, test fast. Start with a Minimum Viable Product (MVP) and talk to users about it
Does your product serve a real need? Be honest!
5. Experiment early and often for aggregated marginal gains
Don't look for a silver bullet, test lots of small things
Rather than having one web page have a series of web pages and work out which one converts the best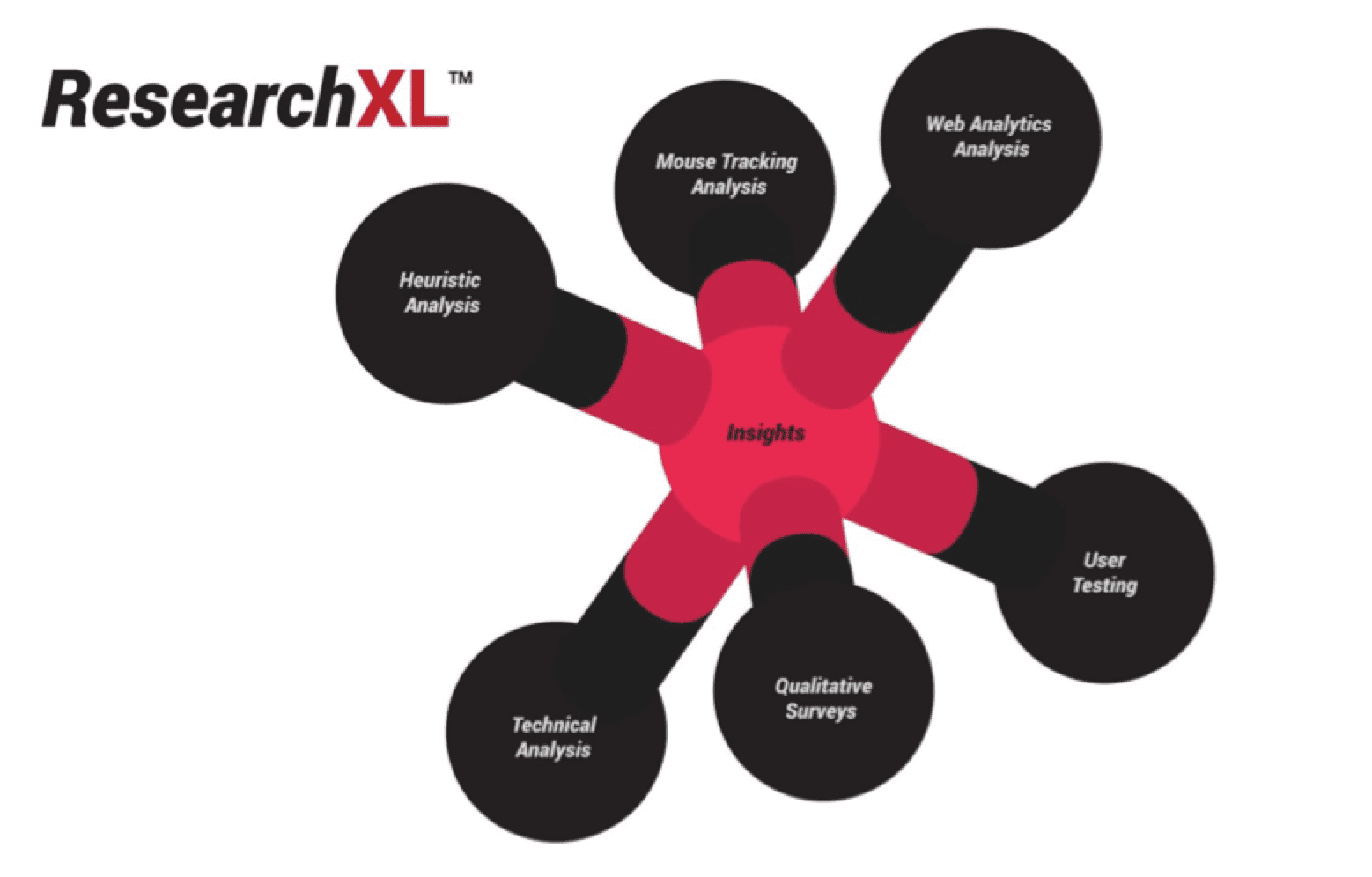 The ResearchXL framework has been produced by Peep Laja. Visit his blog to find out more about each area of the framework.
The information gained from this type of analysis can then be used to test hypotheses' relating to user growth and validate ideas. This process is essential to finding 'non-norm' solutions to achieve growth in a short amount of time.
6. Focus on asking the right questions
What's going to make the biggest difference to your business? Working out how to get there
Don't think online or offline. Think: Who am I talking to?
What am I trying to achieve? What is the best way to get there?
7. Use behavioural quantitative market research and to sharpen selection
This approach is basically using structured testing to improve website effectiveness. Growth optimisation is moving from data, to insight, and then to money. User data analysis is needed throughout this CRO process, so that activity can be prioritised.
Constantly A/B test – you can only hack something once you start testing an idea and find out what actually works
Analysis has to be spot on. But there's a difference between analysis and insight, growth hackers understand the difference
You need to be able to take apart a top-level number…'We had ten million visits today. X of them were in this category and did this and Y were in that category, they might have done that.'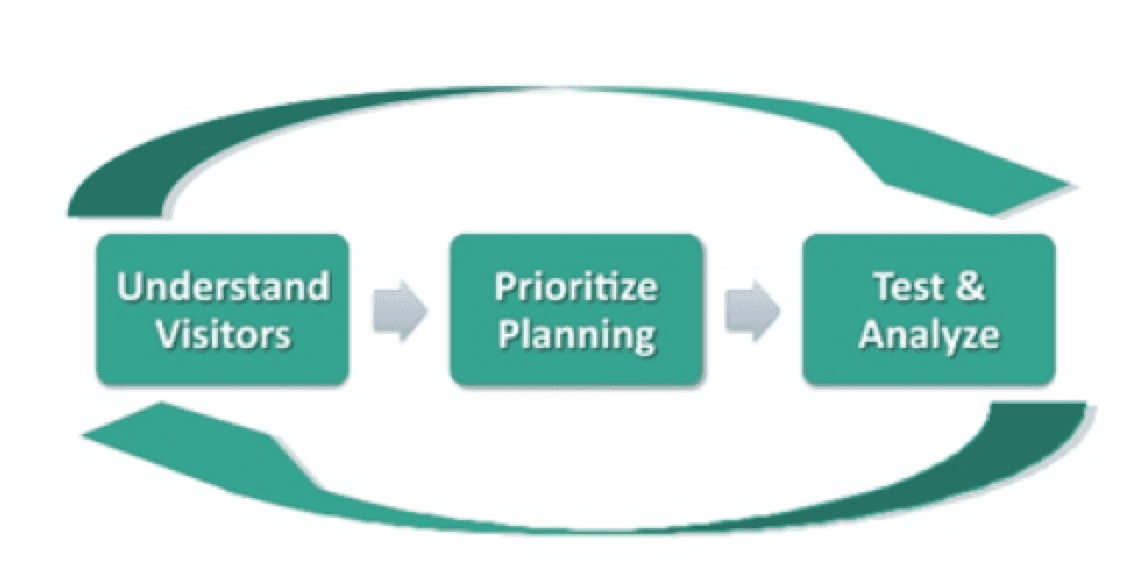 Generally, a company should use a minimum sample size of 250 to test changes for CRO. You also need to think about business cycles – e.g. if your weekend traffic is very different, ending a test by excluding that segment would make your sample unrepresentative.
8. Use qualitative research to improve intuition
People buy brands and emotion and this is needed whatever your business is, whatever you are working on. Growth hacking isn't just a scientific numbers game.
Qualitative research is very important. It's about understanding the 'why' and provides you with more of a 3D focus on exactly why things happen.
Use qualitative data to find out: What are our users interested in? What else are they looking for? What's their experience like? The numbers many be going up but if people are really irritated by something you've pitched to them, you won't be able to capture them again like you did in the beginning.
9. Clearly define and communicate new offers
Run numerous tests but have a plan for the sort of things that the hypotheses should be, they should be documented somewhere in an Excel file. Track the results. You should re-run the experiments; never assume that if you're doing them in January, the results will be the same in June…products have seasonal customers.
There's never perfect data but there's a lot more data in the digital space than the offline world. You can serve messages to different people through testing tools like Optimizely and check analytics on email, social media, etc. which allow you to instantaneous get feedback and adapt your approach accordingly.
10. Encourage a culture of creativity and experimentation across teams
You can't growth hack without the right team. They need to understand what growth hacking is. If they don't understand it, they're going to struggle. And you're all going to be doing a lot more fighting and arguing internally, and you won't get anything done.
If you're running experiments, or doing things that cause problems for other teams (which they can), you need to be able to negotiate and work them out. You can't just be in a silo.
Operational Elements of Growth Hacking
There are a few essential elements needed to be an effective growth hacker – these can be seen in the diagram below.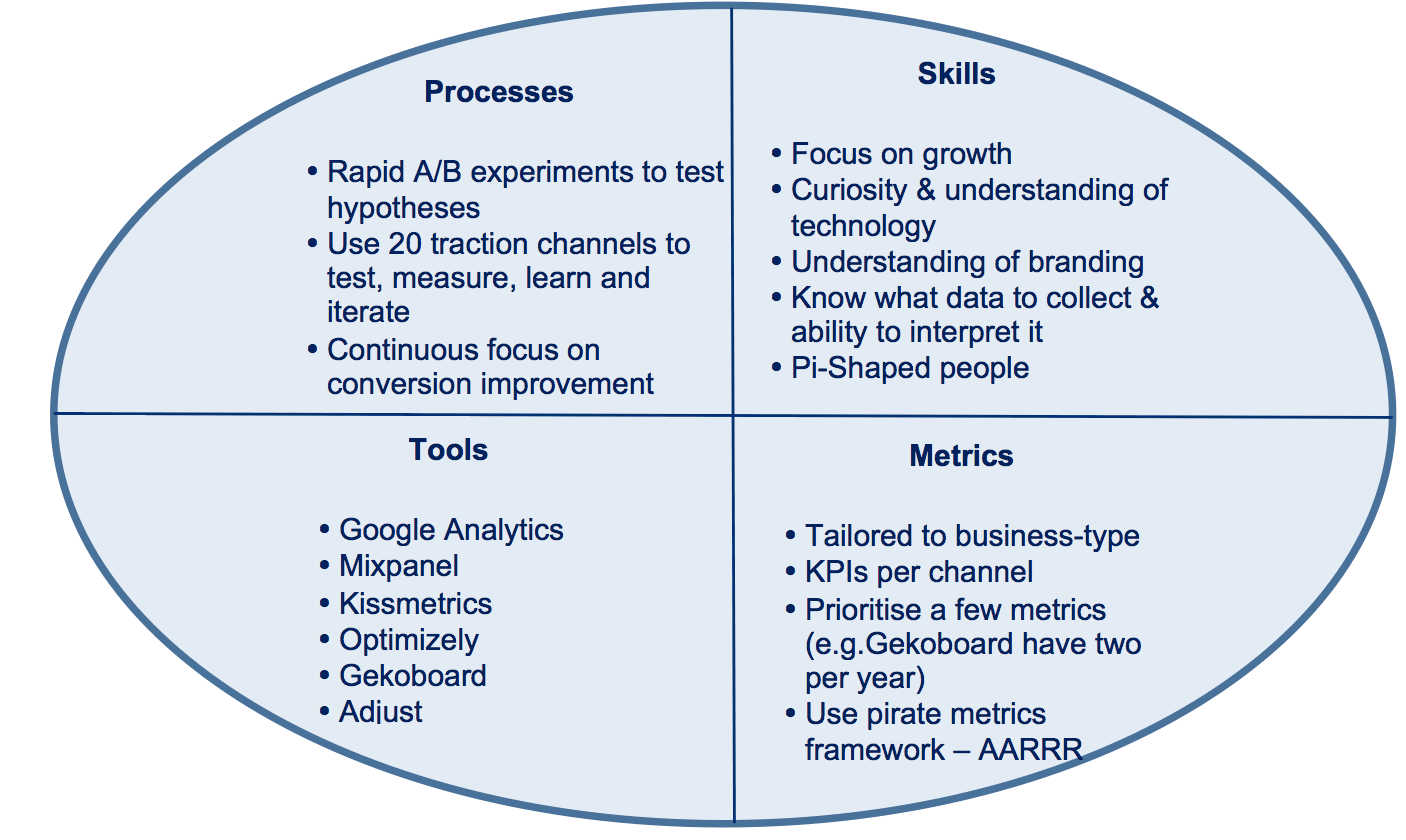 Pirate Metrics
Investor Dave McClure of 500 Hats has often spoken about the marketing funnel and start up metrics for Pirates (AAARR). This is a useful tool for all types of organisation.